More Volunteers Doing More Community Work In More Places than Any Other Service Organization
When it comes to meeting challenges, our response is simple. WE SERVE. In 206 countries, in hospitals and senior centers, in regions battered by natural disasters, in schools and eyeglass recycling centers. Lions are doing community volunteer work, helping, leading, planning and supporting. Because we are local, we can serve the unique needs of the Manitowish Waters community, and because we are global, we can address challenges that go beyond our borders.
We want everyone to see a better tomorrow. That's why we support sight programs and services including vision screenings, eye banks, and eyeglass recycling, providing eye care services to those at risk of losing their sight and raising donations through campaigns like SightFirst and Campaign SightFirst II.
We believe everyone deserves a healthy life. From providing health programs that focus on hearing loss, to supporting efforts to control and prevent diabetes and measles, we're working to improve the health of children and adults around the world.
We empower the next generation. Whether it's providing youth volunteer opportunities and leadership experiences in a Leo Club or sharing a message of peace through our Peace Poster contest, our youth programs invest in the future by reaching out to young people.
We serve local communities and protect the planet. From performing hands-on community work and service projects, to providing emergency assistance, our community and environment programs improve our communities and protect the environment.
The following is a compilation of the various club activities, events and club responsibilities:
The Lions Club takes part in the Manitowish Waters Chamber of Commerce sponsored 4th of July activities. Participation may include before event set up at the Community Center and Airport grounds, traffic control during the event, Brat stand and parade involvement. Annually the Lion of the Year and Citizen of the Year are featured in the parade. Lions Club members may also participate in other aspects of the parade and Airport grounds activities.
Chairmen: John Hanson, Gene Wilberg
Lions Club apparel is offered for sale at reasonable rates through the club representative. Lions are expected to "wear the colors" at activities and events. Shirts, vests, jackets and hats are available.
Chairmen: Jim Higgins
Lions Club sponsored bingo takes place at the Community Center each Monday night during the summer months. Doors open at 6 PM with bingo beginning 7 PM. Snacks and refreshments are available.
Chairman: Mike McKeon
A Lions Club sponsored cash raffle takes place at Koller Park in downtown Manitowish Waters during Music in the Park on September 4th @ 5pm. Only 200 tickets sold. 1st place $5000, 2nd place $2000, 3rd place $1000, 4th place $500, 5th $250 and 6-15th place $125 each.
Chairmen: John Hilbert
Manitowish Waters Lions Club activities include many events that utilize concessions over the course of the fundraising season. The concessions committee coordinates the purchase of all major food and beverage purchases between various event chairmen so the club benefits from combining many small individual event purchases into large club purchases. This allows the club to purchase in bulk and the ability to have some items delivered. Coordinating the orders also prevents the club from overstocking on items used in multiple concessions.
Chairmen: John Hilbert
Deer hides are collected via local drop sites (e.g. Little Star Garage) from area hunters in the fall. The hides are transported and sold to raise money in support of the Lions Camp at Rosholt, Wisconsin.
Chairmen: Dick Henske
Occasionally special programs are scheduled to occur in conjunction with the dinner meetings. They generally consist of speakers from the area who present on topics of interest to Lions Club members.
Chairmen: Dan Meier
A Dinner Meeting Reservations Coordinator is responsible to handle the dinner meeting reservations. A procedure has been developed to notify area restaurants of the expected number of Lions attending a dinner meeting in advance of the event.
Chairmen: Lynn Schroeder
Dinner Meeting Scheduling covers the series of 10 monthly Lions Club dinner meetings which take place beginning in September and continue through June of the following year. Arrangements with local restaurants are primarily completed prior to the Fall of the year but then continue as needed until all dinners have occurred.
Dinner meetings are generally the third Thursday of the month and rotate through various area restaurants. Many of the meetings have a theme and purpose such as September is Member Steak Fry night; march is presentation of slate of officers for upcoming year; April is Officer Election night; May is Awards and Ladies night; and June is Officer Installation night. The February meeting is a Zone meeting and responsibility moves through the various individual clubs in Zone 3. Cocktail time is 5:30 PM until time of the dinner at 6:30 PM. Speakers are occasionally scheduled for the dinners.
Chairmen: Lynn Schroeder and Dan Meier
The Education and Scholarship Committee is responsible to administer the Scholarship Program . The committee evaluates the educational needs of the community and develops programs to be recommended to the Lions Board of Directors that support youth and adult education.
Chairmen:  Bob Cook
Eye glass collection consists of collecting eye glasses via recycling boxes located at various drop off spots around the community including Trigs Village Market. The boxes are kept clean, attractive, in good condition and emptied at regular intervals. Eye glass collection is done in support of the Eye Glass Project.
Chairmen: Phil Rose
The Eye Glass Project is a beneficial and rewarding activity that the Club participates in. The Eye Glass Project is a process of classifying eye glasses in preparation for use in third world countries. The World Health Organization estimates that more than 157 million people around the world have uncorrected refractive errors in their vision. Such errors are easily corrected with eyeglasses and yet many lack access to basic vision services. The Lions program helps fill the gap by providing thousands of eye glasses through this recycling process.
Eye glass classification begins with used eye glasses transported from the Lions Camp at Rosholt Wisconsin to the local lions club. With the help of volunteer Lions and Lioness, the eye glasses are cleaned, sorted by type, evaluated for prescription using a Lensometer, and then packaged for transport back to the Lions Camp for distribution throughout various third world countries.
Since 2005 the motivating force for eye glass classification has been Betty and Earl Watkins with over 38,000 pairs of glasses processed.
Chairmen: 
Each summer, the Manitowish Waters Lions Club sponsors a Flea, Craft and Farm Market on the Manitowish Waters Airport grounds. The market, initiated in 2006 through the efforts and vision of Dave Wickeham, has grown through the years and is now a premier area event during the summer season. Participating vendors have found the event an opportunity to display their wares for the area's residents, tourists and visitors.
The market is held each Thursday, June through August, mid-morning to mid-afternoon and during September weather permitting. Typically, 40 to 60 vendor sites are rented each week. In 2011, a Lions concessions stand was introduced which provides food and refreshments for those frequenting the market. The Lions Club's responsibilities around this event are significant and volunteers willing to assist in the endeavor are always welcome.
A Golf Outing is held at the Trout Lake Golf Club in late August in conjunction with the Boulder Junction Lions Club. The public is welcome to participate. Proceeds are used to help support local organizations.
Chairmen: John Hanson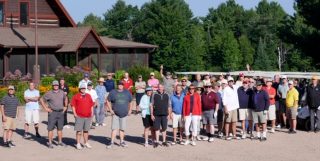 The Adopt-A-Highway Clean-Up program is undertaken by the Lions Club to clean up and beautify a 2 mile stretch of State Highway 51. The clean-up is normally conducted three times a year; before Memorial Day, prior to the Fourth of July and after Labor Day.
Chairman: Randy Lang
The Holiday Home Tour Parking is undertaken by the Lions Club. The event is sponsored by the Lioness and occurs at the beginning of December.
Mike Hahn presents each month the Lions Roar, the official newsletter of the Manitowish Waters Lions Club. News, member profiles, dates, events and activities are featured each month.
Chairmen: Mike Hahn
Our annual pancake breakfast takes place at the community center on Memorial Day Sunday. Pancakes are served from 8am to Noon.
Chairmen: John Hanson
The Lions Club Pavilion is situated adjacent to the Manitowish Waters Community Center and children's playground. It was funded by the Lions Club and is used for certain Lions Club events and other Chamber of Commerce and Town of Manitowish Waters authorized events. It is the site of such activities as the Lions Pork Chop Dinners, Lions September Steak Fry and Chamber of Commerce sponsored 4th of July activities and Cranorama. The front area of the Pavilion is a refreshments and food serving area and the back area is a Lions Club equipment storage area.
Renovation Committee: John Hanson, Randy Lang, Chuck kramer 
Three pork chop dinners take place at the Lions Pavilion adjacent to the Community Center.  The dinners are scheduled for the third Thursday in June and August and the fourth Thursday in July.  Dinner is served from 5 PM to 7 PM. 
Chairmen: John Hilbert
The Club Publicity Chairperson is responsible to communicate to local media regarding the various Lions Club activities. Communication may be prior to the event with the intent of advertising and promoting the event with the public or after the event reporting the success and outcome of the event. Communication may typically include pictures and narrative. Local media most often used includes the Lakeland Times. Chairpersons who would like their event publicized should notify and collaborate with the Club Publicity Chairperson.
Chairman: Dennis Hill
The Lions Club refreshment service is a welcomed addition to several other Lions and community events and activities. It features beer, wine and soft drinks and set up is typically at the Lions Pavilion or Community Center.
Chairmen: Lynn Schroeder, Don Zickert
The responsibility of the Sunshine Committee is to support club members who have health and other serious concerns through the sending of cards, prayers and well wishes during their difficult times. A column in the Lions Roar newsletter is dedicated to Sunshine Committee news. The Sunshine Committee Chairperson will coordinate and communicate concerns, needs and conditions as appropriate. Care is taken to respect the wishes and sensitivities of all club members. Club members who become aware of co-members in need should coordinate with the chairperson to make the appropriate information available.
The Sunshine Committee is a committee of the whole. Every member of the Manitowish Waters Lions Club is automatically a contributing member. The effectiveness of the committee depends on every member's support and participation.
Vision screening is a beneficial and rewarding activity that the Manitowish Waters Lions Club participates in. The purpose of the screening is to help identify persons that may be at high risk for eye diseases, vision issues or in need of a professional eye examination. Vision screening may detect eye disease in the early and treatable stages and provide the public with valuable information and education about eye care. Vision screenings include risk assessment, visual acuity at various distances and peripheral field of vision testing which is recommended for those 40 years of age and older.
Vision screenings are conducted by Lions Club members that have been certified by the PREVENT BLINDNESS WISCONSIN organization. Certification training is conducted each year for interested Lions.
Vision screenings are conducted once or twice a year at the Manitowish Waters Community Center. Typically, two certified Lions plus three or four volunteer helpers are needed. Associated activities include publicity, site scheduling, set up, follow up contact with participants who have been identified with eye/vision problems and reporting the results to PREVENT BLINDNESS WISCONSIN.
Chairmen: 
Manitowish Waters Lions Club has a website containing important up to date club information. Go to MWLionsClub.org to view the Manitowish Waters Lions Club website and additional information about the club. At this site you will find important club event dates with respective chairmen and contact information. Visit the site often and stay informed.
Chairmen: Mike McKeon
Chairmen: Dan Meier/Lynn Schroeder